Food Stamps/SNAP Program
SNAP- Supplemental Nutrition Assistance Program, formerly known as the food stamp program provides benefits to individuals and families who meet income and resource requirements.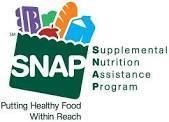 The Supplemental Nutrition Assistance Program is the new name for the Food Stamp program. These benefits are used to buy food and help eligible low-income households in Pennsylvania obtain more nutritious diets by increasing their food purchasing power at grocery stores and supermarkets. If you are eligible, you will receive a Pennsylvania Electronic Benefits Transfer (EBT) ACCESS Card which is used to make food purchases at grocery stores and supermarkets.
To find out if you are eligible for SNAP, view the income limits here and then learn how to apply here. 
The minimum benefit is $23.
---
Self-Help Resources
---
Local Resources & Lawyer Referrals