Mission & History
North Penn Legal Services is a nonprofit organization providing civil legal aid to low-income residents of Northeastern Pennsylvania. We provide legal assistance so that people can know their rights and free legal representation in non-criminal matters such as eviction from housing, discrimination, family law, and consumer protection issues.
Mission Statement
North Penn Legal Services strives to solve civil legal problems and empower vulnerable populations through professional legal representation, advocacy, and education.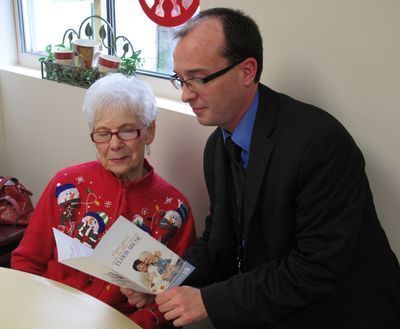 NPLS provides free legal aid services on civil cases to low-income families, individuals, and groups in Northeastern Pennsylvania every day. Services include individual representation (ranging from document preparation to litigation), information, referral and advice through a telephone helpline, community legal education, and support for those clients who will be taking responsibility for handling some or all aspects of their own issue.
NPLS engages the private bar, social services and community organizations, courts, and advocacy groups to effectively help low-income people with their civil legal needs.
Accomplishments for Clients:
Family Moves into Home with Safe Living Conditions
(Housing) Jennifer—a single woman in her 40's contacted NPLS' Hazleton Office after she received an eviction notice from her landlord. Our client did not pay her rent because the landlord had not remediated a serious mold problem in her apartment. 
After meeting with Jennifer, a NPLS advocate discovered that code enforcement confirmed the mold issue in her apartment. NPLS educated Jennifer about her rights as a tenant. Despite the eviction notice, our client was entitled to some compensation for mold damage to her furniture. NPLS helped the client to prepare letters and obtain a favorable judgment for her furniture.
Jennifer moved out of her unhealthy apartment and received a judgment for $800 to replace the furniture that was affected with mold. Our client and her fiancé were made aware of their tenant's rights and took action toward habitable housing. Quick action by NPLS' advocate eliminated any health issues that may have risen from the severe mold.
Senior Overcomes Housing Discrimination
(Employment) John—our client in his mid-60's reached out to NPLS after he was denied housing due to his criminal record history. 
An advocate from NPLS' Bethlehem Office investigated John's claim that he was discriminated against by a private apartment complex. During the initial phone meeting with the private apartment complex manager, it was made clear that the electronic application system used by prospective tenants automatically rejects applicants if they disclose any criminal history on their application. The apartment complex manager agreed to allow John to reapply for housing after NPLS' advocate explained the convictions on John's record. An apartment became available quickly and our client accepted the unit and signed the lease agreement.
NPLS successfully advocated for John to obtain access to housing despite his criminal record. For the first time, John can make plans for the future without fear that his criminal history will impact his goals.